"I love learning and working with tech, open source software, servers and networks and now my latest passion is DERO. As I keep learning I'll build tools and sites like this, this is part of my contribution" - Hansen33, root@mysrv.cloud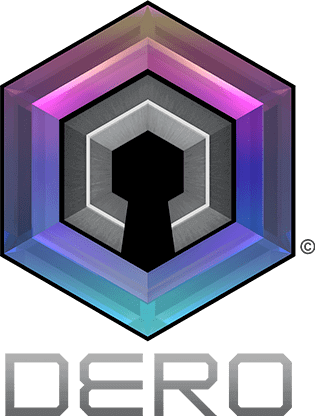 DERO Stargate RPC API Service.
Location: Singapore, SG
MAINNET - Version: 3.5.3-140.DEROHE.STARGATE+13102023
We have opened up our Daemon RPC API to the Public and you can use this to interact with the DERO Stargate network.
In this experiment we will monitor what happens when we give the world access to this power, and what it'll do to our servers.

Secure API URLs:
https://dero-node-orionure-sg.mysrv.cloud/json_rpc
wss://dero-node-orionure-sg.mysrv.cloud/ws
wss://dero-node-orionure-sg.mysrv.cloud/ws/*
Use with Wallet:
--daemon-address=dero-node-orionure-sg.mysrv.cloud:10102
If you intend to use our API in a Web Application, we would appreciate if you could get in touch and let us know, so we can expect the traffic.
Node Uptime: (22d 18h 39m 44s) - Restart Reason: (Maintenance)

Network - Current Stable Height (2,982,507) - Our Height: (2,982,515)


Current Network Hashrate (261,604,138)

Transaction Pool Size (2)


Miniblocks in Memory (78)


Network Orphan Miniblock Rate (4.58%)


You will find that our API supplies additional information about the DERO network due to our own customizations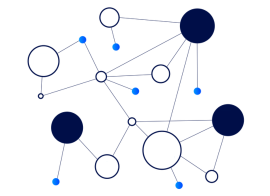 Peering with dero-node-orionure-sg.mysrv.cloud
In support of DERO Network we are running several large nodes with high bandwith in central locations. This node is located in Singapore, SG and has 1Gbps internet connection. You can peer up with our node if you wish, using the below settings when you run derod


--add-priority-node=dero-node-orionure-sg.mysrv.cloud:11011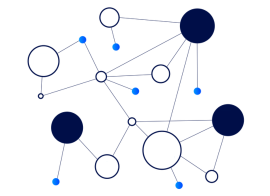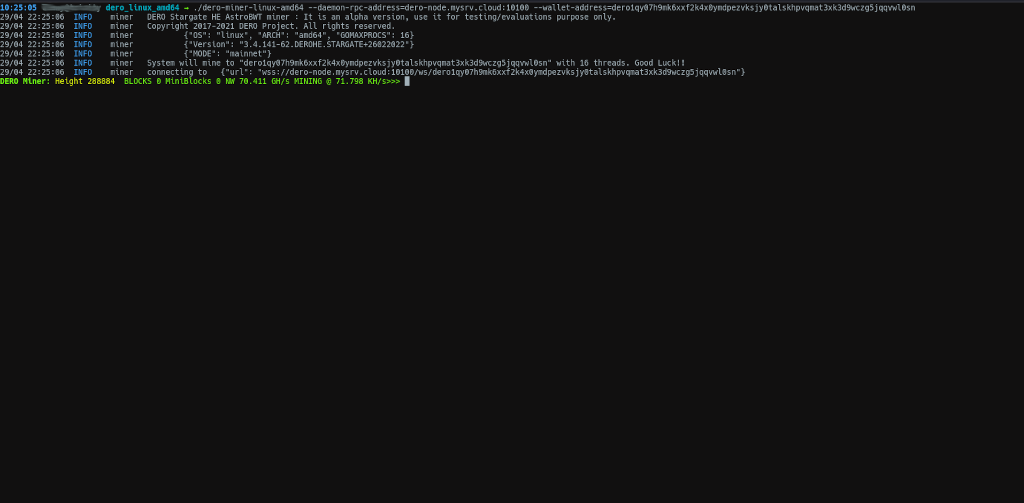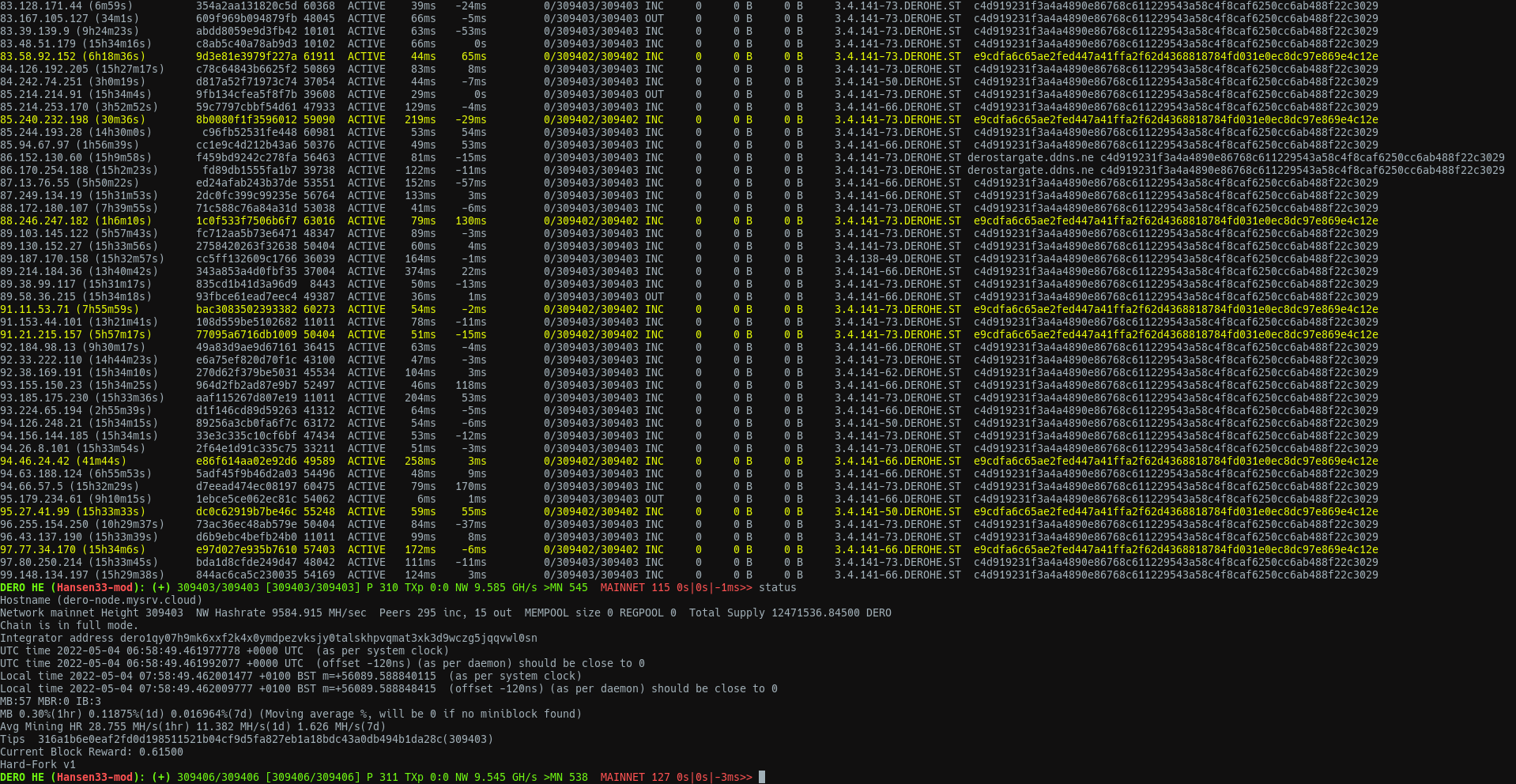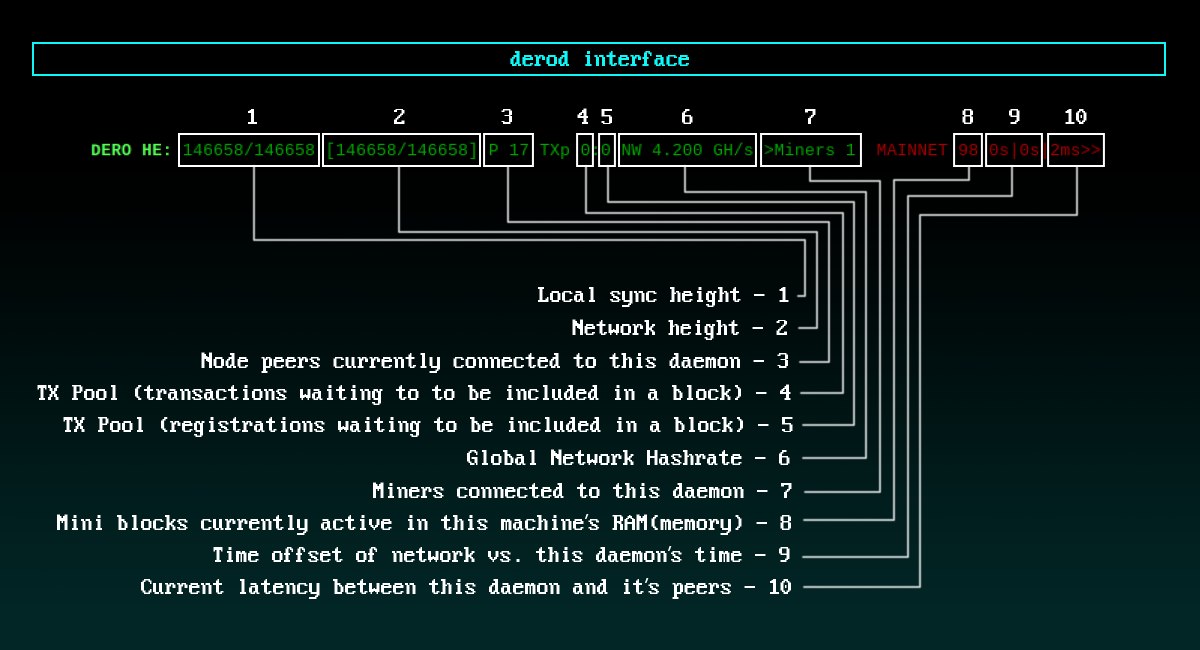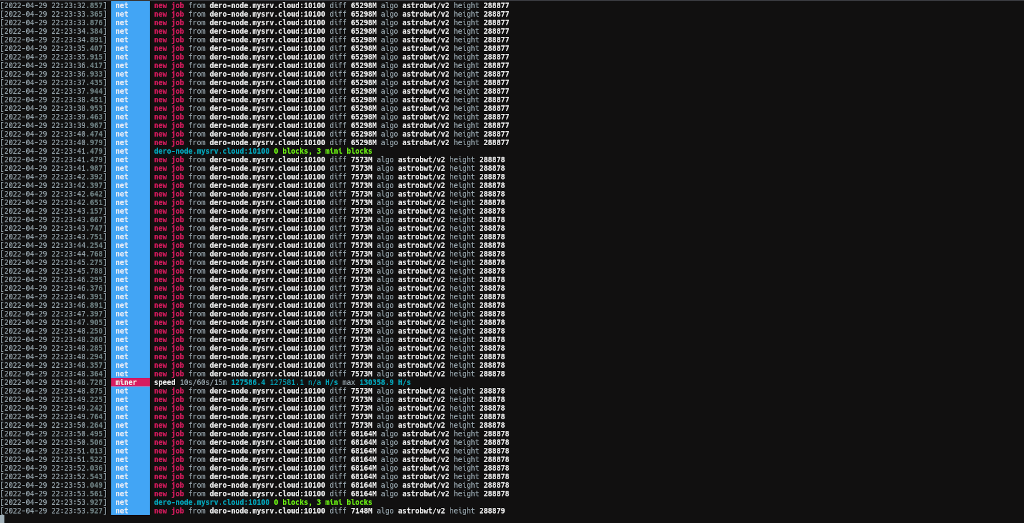 Connections - Incoming (71) / Outgoing (43)


Peer Latency (32ms)


Node Bandwidth Usage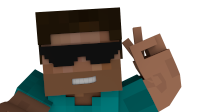 Mining DERO with dero-node-orionure-sg.mysrv.cloud
DERO Mining is all about getting mini blocks, tasty mini blocks. There is a maximum of 48,000 mini blocks mined per day, and you can have some of them too, with just a phone.

Local or Remote Mining. Solo or with friends. The choice is yours.

Android Mobile and Tablet Mining Guide

For HiveOS, all you need is a flight sheet, and off it goes ...

Pool Mining, where everyone gets a fair share ...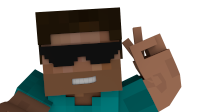 Currently (1,605) Miners Connected

Can you move the needle(s) with your miners?

Minting (469.08) Miniblocks Daily

Mining Hashrate (Moving Average) - Currently (1,308,020)

More Stats Below

Hansen33 First Node (United Kingdom) dero-node.mysrv.cloud
Yashnik Node (Germany) dero-node-yashnik-eu.mysrv.cloud
Yashnik Node (Virginia) dero-node-va.mysrv.cloud
CH4K1Pu's Node (France) dero-node-ch4k1pu.mysrv.cloud
dirker's US Node (Oregon) dero-node-us-west.mysrv.cloud
Orionure Node (New York) dero-node-orionure-us.mysrv.cloud
Gustavogerman Node (Argentina) dero-node-gustavogerman.mysrv.cloud
maikze's node (Finland) dero-node-maikze.mysrv.cloud